Negativity Bias and Mindfulness
I was giving a talk recently (I do a few of these
online talks
to help inform, educate and give you the confidence to start teaching kids/teens meditation) and I came across a term '
negativity bias
'. 
It means that our brain and body constantly scan the environment for threats.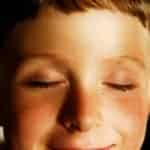 If we detect a threat, we manage it as it activates our stress response (fight/flight/freeze) – which is designed to keep us alive.
What it means is that we are hardwired (neurologically speaking) to seek out the negative in our life experiences more easily than the positive ones.
As Rick Hanson, Ph.D., a neuropsychologist and author of "Buddha's Brain: The Practical Neuroscience of Happiness, Love, and Wisdom" argues that our brains are like Velcro for negative experiences, and Teflon for positive ones.
I found this fascinating.