Help your kids feel better
As a parent or caregiver, it can be difficult to witness your child struggling with their mental and emotional well-being.
Whether they face stress, anxiety, or struggle with attention, you want nothing more than to provide them with a sense of happiness, safety, and love.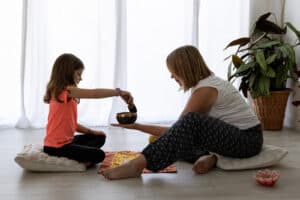 Connected Kids offers you the skills to support the young people in your life to feel calmer and happier.
Through our award-winning training program,  you'll gain the knowledge and skills to bring more peace and calm into your family.
We understand that every child is unique, and our course will help you develop a mindful style that matches your child's needs, interests, and energy.
"

I love how much it improved my own family dynamic and the parent I am. The course has been life-changing for us."

Jane, UK
Curious to Confident – helping you teach meditation
Our foundation course suits the curious parent or carer who wants to introduce mindfulness skills to children or teens in their family but needs more confidence. With 20 years experience of helping people like you, we know what we offer really works.
Enjoy the following:
Innovative and effective methods that help you deliver meditations that children (and teens) can learn
Flexible learning – you can complete the modules around your schedule
Adaptive ideas and mindful tools that can support all ages (toddlers to teens)
Access to an experienced Connected Kids team through online support
Exclusive access to our online community of parents and carers to exchange ideas and overcome self-limiting beliefs
Award-winning training – 3 awards: National Nursery Gold award, National Parenting Product award, and Mom's Choice award
The freedom to choose…

A 7-day free trial – of our subscription service to access the materials for as long as you need.
Or a certified course with lifelong access to our training modules and support.
What does the Foundation course look like?
Module 1 – Exploring the benefits of meditation for children: explains what meditation and mindfulness are, the benefits of meditation for young people, the mind-body connection in the stress response, how meditation can reduce stress, and guidance on creating breath meditations for young people.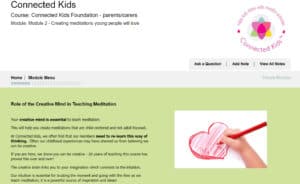 Module 2 – Creating meditations young people will love: you will develop your teaching skills in meditation by strengthening mindfulness and integrating it into daily life.  We'll provide insights on overcoming blocks to creativity, leveraging imagination in developing meditations for young people, creating sensory-based meditations for children, setting clear intentions for teaching, understanding the purpose of relaxation in children's meditations, and guiding you to write impactful meditation scripts that resonate with young individuals by embracing your creative flow.
"Being able to adapt and shift my ideas of mindfulness and deeply reflect on my daughter's needs has opened the planning and implementation of the session to be a more rewarding experience for both of us"

Emma, Canada
Module 3 – Connecting young people to meditation skills: this module focuses on teaching you how to design mindful activities to complement guided meditations, improve your skills in meditation practice, build confidence in delivering meditations, explore the art of creating and delivering spontaneous meditations without relying on a script, and provides valuable tips and ideas for creating a conducive environment that fosters meditation.
Module 4 – Expanding your ideas and skills for age and stage: in this section, you will expand your repertoire of meditation ideas, explore a simple yet powerful color-based meditation technique, gain an understanding of the concept of "being grounded" in meditation, recognize the importance of grounding in guiding meditations and improving focus for young individuals, add the Tree Meditation to your meditation library, and learn about the varying meditation requirements based on different age groups and developmental stages.
Module 5 – Getting the most out of the meditation experience: in this final part of the course, you will learn effective strategies to assist children in processing and expressing their meditation experiences, delve into the mindful practice of journaling for children, review and consolidate key aspects of the course, reflect on your teaching experience, acquire valuable teaching tips to further enhance your practice, explore daily routine meditation ideas for both you and your children, and develop a comprehensive plan for your future teaching practice.
You'll learn how to create meditations that suit all ages (from toddlers to teens) as you'll be creating meditation ideas and scripts that work to suit your children's needs - whatever their age/ability.
If you purchase the full foundation course (£197), yes at the end of the modules you'll receive a completion certificate. 
If you start the subscription (£9.99 with free trial) you will have module access only.  You can upgrade to the certificate level by contacting us.
The foundation course is not assessed, so it is for personal use only.
Absolutely.  We have many parents and carers in this position who take the foundation course as we give an overview of helping young people with SEN using mindful skills.
If you purchase our foundation course you can complement your learning with our 2nd book, C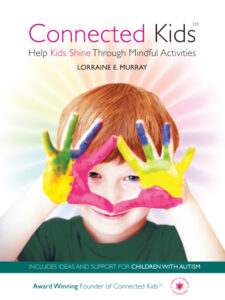 onnected Kids which details the practices for teaching children with complex needs (it's included in our professonal training course).