Like me you have probably become aware of the #MeToo campaign which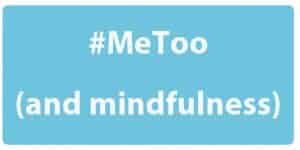 highlights the level of sexual harassment that women experience throughout their lives.
As we can see, it has been an underlying epidemic that females have tolerated for thousands of years in all areas of life.
But I'm uncomfortable with the idea of saying #MeToo and adding my voice to social media.
I don't deny that I've had some unsavoury and traumatising experiences growing up that I would rather forget.  My yoga and meditation practice has (and continues) to help me heal from this.
However the #MeToo campaign leaves me hanging.   It feels a little bit like watching a tragedy on the news and feeling helpless to ease the pain of those involved.  I observe friends saying #MeToo on social media and then I start to worry and wonder about them and their experiences.
It also hangs guilt and shame on the wrong shoulders – of the decent boys, teens and men who don't want to treat women that way.  Perhaps If I were a man, maybe I would lower my gaze and no longer feel confident engaging with females.
But if I sit and reflect on the #MeToo campaign through my meditation practice, I have a sense that …