Mindfulness and the holidays
The summer holidays can be a long time to spend with your kids.
You love them but your whole routine can change and even though holidays are meant to be enjoyable, they can be a little bit stressful too!
So here are some tips and ideas to help you keep up your meditation practice and help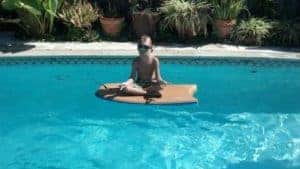 your kids practise mindfulness during the summer break.
(Photo courtesy of Jennifer Furtney Miller – "Here is my 5 year old son meditating in the pool. Trying to compose himself during a conflict with his 7 year old sister. We love this photo. He often joins us at 6am to meditate too. Namaste.") Continue reading →