In society we want things easy.
Maybe it's a combination of technology, lifestyle and the way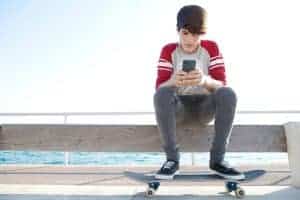 our brains are developing.  Reading the book 'Mind Change' has been fascinating as I learn I am a 'digital immigrant'.  That means I have been introduced to blogs, emails and the tech stuff  later in my lifetime.
According to the author, Baronness Susan Greenfield kids are 'digital natives' – in other words their brains are introduced to it from the day they are born and it is shaping how their brains develop.
I don't mind technology (in fact if it wasn't for technology I wouldn't be able to reach thousands of people from my office here in sunny Scotland).
But the use of technology in our lifestyles is on the increase.  From a proactive (rather than reactive position)  we must offer young people a way to bring balance into their bodies, minds and emotions so they don't disconnect from the essence of life.
When kids are disconnected, this results in them feeling and behaving in an ungrounded way – poor sleep, inability to focus and concentrate for long periods, anxious, fidgety, reactive and sometimes aggressive.  Plus, they feel overwhelmed.  Not the legacy I wish to leave for children.
That's why I am passionate about teaching kids meditation.
We have the opportunity to show kids how to relax their bodies and reconnect with the grounding quality of the body (if we don't… kids become ungrounded and the emotions and thoughts take over).
With mindfulness, have the chance to help kids feel what they feel as they feel it and thus process what is going on inside in them a safe and calm way.  If a child doesn't know how to express (in words or other ways) what they feel, they internalise this feeling or have strong outward behaviours.
Through meditation, we offer young people the ability to engage the pre-frontal cortex (which is the part of our brain that helps us rationalise and creatively come up with solutions). The alternative?  Our young people simply become reactive, using their reptilian brain (this means we've had it a long time – prehistoric in fact).
Technology makes our lives go faster.  It leaves us feeling swarmed by emails and overwhelmed with information.
We can't escape this.  We need to do what human beings have always done – adapt and evolve.
Meditation offers us a suitable, safe and adaptable solution that helps our young people to surf these challenges in life that we have created for them.
So I'm going to keep teaching kids meditation (and showing others how to).
I invite you to do the same.
Online Talk
If you would like to join me for an online talk and presentation (with some tips and ideas on how to get kids hooked on technology to try/practise meditation) please book a space here. (This online talk has now finished but we'll hold others – if you would like to be kept informed, please join the mailing list).