… from someone who wanted to study with our programme.
She had booked an online chat with us to explore the programme before deciding on how she would study (and whether it was the right programme for her).
It turns out she was in Italy, a life coach, and wanted to help children and families in her community.
But even though we think our website is quite clear… she couldn't decide which learning route to take.
So we thought 'aha!' and have made it easier... by producing this flow chart of the 2 parts of our programme – foundation stage and the professional training.
If you select the image, it will pull up a pdf (with links) that you can explore and hopefully… helps you understand the choices and variety of options you have to train with us.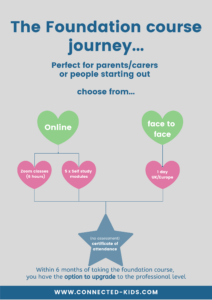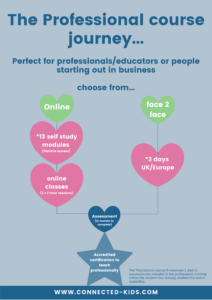 Our course isn't right for everyone.  If you are curious, heart-centered and want to teach generations of kids (or your kids) how to reduce stress with mindfulness… then yes, our course is for you.
If you think this course is the next money-making idea – please don't apply.   Yes we wanted our members to be successful and sustainable in their professional work, but not at the sacrifice of their integrity (or ours!) and authenticity of the work we do with kids and teens.
Do we think our tutors will be busy?
We think there's a mental health pandemic around the corner, following the Covid-19 one.  So… yes, we need many more people to learn this and help future generations have good mental health.
#justsaying