I love showing people how to teach kids meditation.  I am constantly amazed at how children and teens respond to mindfulness and mindful activities and it gives me no greater joy to see the delight of the adults who teach them.
Often adults are amazed how kids respond.  Perhaps adults think that it must be difficult for kids to meditate because adults usually struggle at the beginning.  I don't believe this is true and especially for kids with special needs.
I believe in them.  I believe that kids with special needs are just as capable of finding moments of peace if we show them how.  I refuse to accept that they can't do it and know that it is my purpose to help find a more creative, fun and adapted way for them to access this important life skill we call meditation.
Message from a Magnolia Tree
I was sitting having my lunch the other day, when I spotted this beautiful tree in Lo
ndon.  I hadn't noticed it at first and then realised it was a magnolia tree.  From the photo you can see that it doesn't look like an ordinary (straight up and down) kind of tree.
In fact without the magnolia flowers, it looks kind of crooked.  Yet I know that when those buds come into bloom, it will be incredible.  That's how I feel about teaching meditation to kids with special needs.
I often say to students who come on my courses… if I can teach you one thing… it is this.
Try to teach children meditation with the attitude of 'what will they teach me'.
Enter each opportunity to teach mindfulness with the curiosity that you apply when you enter your own meditation space… waiting to see what shows up and willing to accept it all.
When adults step into teaching meditation with this awareness, we see that this is a 2-way process.  Children learn and we learn.  Teens learn and we learn.  Kids with special needs learn and we learn. Every… single… time.
I read this blog about a mother with a son with special needs.  It is so poignant.  I was so moved and mostly because the parent was entering into this space with her child not to change him, but to be with him.
When we teach children meditation (especially those with special needs) we share the experience.  We don't try to fix or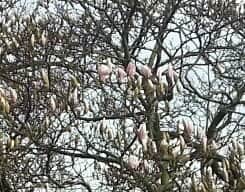 change them.  We simply help them be the best they can be.  In my world, I see them as beautiful magnolia trees – different from the rest, but shining and waiting  for us to notice.
_/\_ Namaste
Lorraine x