We won an award!
For our online Connected Kids course!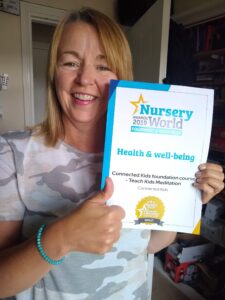 Our course was recognised with a Gold award in the health and wellbeing section from Nursery World!
To celebrate – we are givng a £25  discount off the foundation course until the end of May 2020.
This course helps you to create meditations that your kids will love!
Use the code WOOHOO25
If you want to become a kids/teens meditation teacher
Professional Training – to become a certified Kids Meditation Teacher
Teach Children Meditation Books – learn more
about the benefits of meditation for kids including those with SEN/Autism/Anxiety/ADHD