You are probably reading this article on your mobile phone or computer – perhaps a friend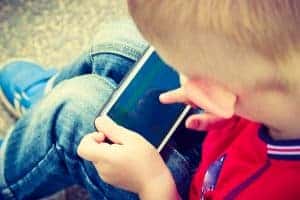 shared it through social media or you did a google search for 'teach children meditation'.
The irony is that we use social media and tech in our lives so much that we don't notice how much it may be affecting our well being.  This is true for our kids and teens too.
Is tech really that bad for kids?
Perhaps you remember the candy cigarettes we use to have as kids?  You know the ones where we pretended (as kids) to smoke even though we knew it was candy.  Interestingly the sales of these are now banned in the UK as society has realised, and has the research to prove, that smoking damages our health.  But back in the 50's, 60's and 70's this wasn't the case. People thought of smoking as a slimming device or it was just regarded as a social habit.  Now we know the truth.
I feel the same about phones and laptops for kids.  At some point, as a society, we will realise we have allowed our children to access technology too early;  children with screens attached to car seats or buggies…giving our kids our mobile phone to play with so they'll be quiet.
It's interesting that parents who work  (and create) this technology don't allow their children to have access to this tech.