I'm not sure where to begin in this blog about my trip to New Zealand and Australia.  It was both a very healing and enlightening one for me.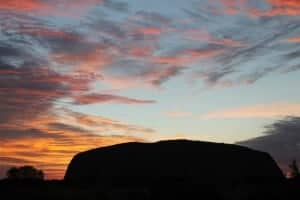 You see my first trip to Australia held some really difficult memories.  I went to Sydney 17 years ago, it was at a time in my life when I had experienced many challenges.  The biggest was the sudden death of my mother that same year – I was only 28 and floored by this.
My perception of Oz during this time was filtered by my grief that I held deep down inside.  Visiting Sydney was both an exercise in opening and healing old wounds as well as creating new, loving memories with my husband.
Meditation in Australia
But there is an amazing energy in Australia and I put it down to the affect of both the aboriginal people and the energy of the land – in particular Uluru.
We visited Alice Springs on a 3-day 'camping under the stars' trip to Uluru and other amazing national parks.  But Uluru has the most astonishing energy all of its own.
Before I had even been there… with the group I was teaching in Adelaide we tapped into this 'energy' as we practised our own meditation and it transformed our Connected Kids course from 'a lovely course' into a deeply moving, bonding and healing course for everyone who participated.  If I say we moved mountains  – I am not joking.  It was that special and I am forever grateful to those who gave up their time, energy to be there with me on that special time in Adelaide.
So much was shared at this course… it is too much to put into one blog, but I will do this gradually, to help unfold all those treasured moments in future blogs.  The same goes for New Zealand too.  All I can say is "wow".
Uluru Energy
But back to Uluru!  I found that when I meditated with this amazing 'rock' that the energy is something to behold.  I was most interested in how it would affect my teaching of the Connected Kids course (which has always felt divinely inspired).
Since being at Uluru, I feel that we (you and I) are on a mission.  Teaching children meditation isn't just a 'nice to have' – it is essential.  Essential for the wellbeing of children, communities, future generations and most importantly our planet.
The Power of Peace
If we take the time to practise (as adults) as well as teach our children meditation,
we demonstrate the power of peaceful moments.
These precious minutes spent in reflection enable us to…
feel balance whilst accepting our power.
It allows us to engage with our inner teacher – the one that speaks to us with love and gratitude, and yet to accept the ego for what it teaches us.
It helps to inform every decision we make about our life from a place of conscious community, not to serve the self.
It shows us how to mindfully  value and love this precious body and the time we have with each other.
If we take time to teach our children this simple, yet powerful tool of meditation, then we share with them a love so deep within our heart that it will help guide them through life to a secure, strong and grounded place.
Planting seeds…
I know that these words in this blog are inspired by my trip to Uluru and beyond.  I know that there are many other countries I have yet to plant a seed with my teaching.  I hope to see you there.  But if not, please learn how to do this somehow.  If you do, you have my eternal gratitude.
Namaste
Level 1  or 2 Connected Kids course