We felt inspired (as we love Christmas) to create a mindful advent calendar

Use it at home or in class to help kids practise some simple mindful activities and meditations in the lead up to the the festive holidays.
Simply print off this free mindful advent calendar for kids and cut out each day's meditation that you can hang from your tree or a branch.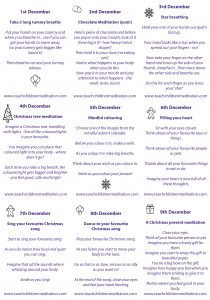 They can simply colour in the pictures (mindfully) and/or do the mindful activity for each day – join in!
You can expand each of the mindful meditations or create your own (there's so many more to create… a gingerman meditation, snowflake meditations, candy cane… to name a few!)
If you need further inspiration you can learn more through our courses or books – how to teach kids (and teens) mindfulness and meditation.
Getting started…
Join our our mailing list (we'll send you some useful info, tips and ideas…and  no,  we  don't spam).
Take the Foundation course – to teach your kids and teens mindful meditation
Professional Training – to become a certified Kids Meditation Teacher
Teach Children Meditation Books – learn more
about the benefits of meditation for kids including those with SEN/Autism/Anxiety/ADHD