Autumn Meditation Ideas for Kids and Teens
Autumn provides a wide variety of sights, sounds, and sensations to explore through meditation as we start to witness the vibrant colours of summer fade into warm, golden hues.
It's the perfect time to bring some mindful practice into your daily life and try some of these simple meditations to help children and young people connect to the autumnal energy of the equinox.
Help your children adapt to change
Autumn provides a perfect example of change and transition and with mindful awareness, we can use this as a backdrop to help young people cope with change.  The mindful and creative activities we have listed can support this practice.
Nature Walk Meditation
Studies demonstrate that being in nature has a positive effect on our well-being and health.  Although we associate the outdoors with spring and summer, autumn also provides a variety of opportunities to tune in and be mindful.
We can help young people enhance their focus during a nature walk if we guide them to
notice the rustling leaves,
feel the crispness in the air,
pay attention to earthy scents
or explore the variety of shapes, colours, and textures of the fallen leaves.
The sun also takes on a golden hue and can feel different if we take time to notice it.
Leaf Magic Mindfulness
Collect a variety of colourful fallen leaves and invite children and teens to sit comfortably, holding a leaf in their hands.
Ask them to observe every detail of the leaf – its shape, color, texture, and any imperfections. Then, guide them to close their eyes and visualise the tree that the leaf came from and the sensation of letting go.  Guide them to imagine that they are that tree and that with each breath they are letting go of leaves – each one symbolising a feeling or thought they want to release.
Falling Leaves Gratitude Practice
The energy of gratitude can be a powerful, mental game changer if kids and teens are struggling.  Ask them to sit down with a piece of paper and some coloured pencils. Using some leaves, get them to trace around the shape of the leaves, and then on each leaf write or draw something they feel grateful for.
You can enhance the practice by inviting them to colour in their drawing and cut out each leaf they can hang in their room or on an old branch that holds all everyone's energy of gratitude.
Connected Kids Club Meditations
Pumpkin Power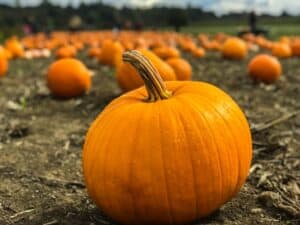 We have released some new meditations for children called 'Pumpkin Power' and 'No Ordinary Tree' in October 2023 AND  you can listen to these for free through a free trial of our Connected Kids club.
Free trial of Connected Kids Club  
Photo by Marius Ciocirlan on Unsplash