Enjoy our exclusive podcasts and meditations
Helping you to develop your skills teaching meditation in addition to healing meditations that benefit you and your family.
Connected Kids has been running for 20 years and through this time we have build up an extensive selection of recorded meditations  and  podcasts.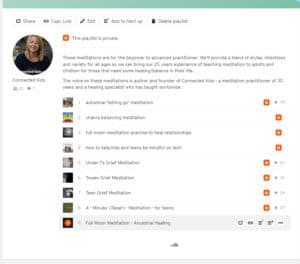 Each meditation has a unique energy and each podcast shares an enlightening insight to…
…help bring grounding and balance,
…strengthen intuition,
…trust in the heart centre
…and healing of mind, body and spirit.
We have decided to open up our exclusive selection through our subsciption service.
This will give you access to unique, inspiring meditations, and insightful podcasts (see below for a small selection).
At present there are 17 tracks but we'll be adding more each month (min of 2 recordings per month) and they range from 5 to 45 mins in length.
We'll have a selection of meditations to suit all ages and stages.  Our current selection includes
Meditations
letting go of stress
chakra balancing
healing for grief – under 5s/tweens/teens
4 minute reset (teens)
full moon meditations
intuitive breath/body scan to reduce teen anxiety
hot chocolate meditation
unicorn meditation
earth and sky meditation (for balance)
Podcast
How to help kids and teens be mindful with tech (phones/computers)
Teaching meditation with colour
Subscription options 
These meditations/podcasts give you the opportunity to tune in and connect with the energy of our work which we have been teaching for 20 years.
If you want to join and listen to these amazing meditations, you have 2 options.
You can have a monthly subscription of £8.88 per month.  Or if you go for a yearly subscription it will be £88.88 (so 12 months for the cost of 10) per year – see the special discount … below (for a limited time!)
These recordings will help to ground, guide and balance your (and your children's) energy whenever you need it. 
You can stop the subscription at any time (sorry no refunds).
Listen to a sample here
chakra sacred geometry meditation (dahlia – part 1 meditation) – sample
healing grief meditation for teens – sample
Limited discount!
Until the 1st March 2023 we are offering a limited discount – £5.99 per month (or £59.99 per year – 12 months for the cost of 10)
To subscribe
Simply scan the qmark or click the link to get started!