Become a professional meditation teacher
to help children thrive!
The Connected Kids programme helped pioneer the idea of teaching meditation to kids – nearly 20 years ago!
Since then our international training programme has grown through recommendations from the thousands of people who have become Connected Kids Tutors – taking meditation into their community to help kids and teens with mindful skills.
From Australia to the USA, worldwide …we have trained tutors who are guiding children of all ages and abilities with mindful skills.
Our job is to give you the skills to help young people build their emotional intelligence, resillience skills and reservoir of kindness.
"It has been a wonderful journey and I have learned so much along the way. It has really enhanced my play therapy tool kit and totally opened up my own journey."
A mindful, child-centered approach
We specialise in working from an intuitive, child-centered approach.   Our training is practical, intuitive and tailored to meet the needs of all young people – including trauma, SEN, autism and ADHD.
Connected Kids is a special programme for special people.  It's more than just a training session and we are dedicated to helping you with your future work as a meditation teacher.
That's why we continue to support you beyond the initial training with ideas, sharing good practice and a thriving online community of like-minded people.  It's a highly skilled course that takes you on a personal development journey.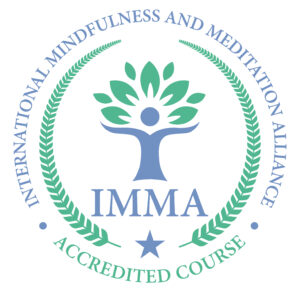 On the Connected Kids Accredited Programme, you'll learn how to…
keep kids and teens motivated by creating meditations and mindful activities they will love
develop the skills to customise a teaching meditation programme that meets their needs and abilities
connect and learn from our wonderful 'peace pioneers' – the affectionate name we have for our online community of tutors like you!
develop advanced skills that take your reach to the micro or macro level – depending on your intention for changing the world!
"
Working with the tools has brought about a beautiful shift in how I work with children. Previously, I worked as a psychologist, working on an intellectual level with evidence-based strategies, attempting to 'fix' problems. 
While I still occasionally work at solving problems and I still use my intellect, my approach to working with children is completely different and much more effective. The course has equipped me with the skills to work on a deeper level with kids, tuning into their energy and underlying issues using simple and effective techniques. "
Connected Kids Accredited Online Training
Lifetime access to online modules PLUS live, online teaching sessions.
Read More...
Connected Kids Training Workshop – UK and Europe
Face to face training with Connected Kids Training experts - UK and Europe
Read More...
developing mindfulness and meditation to support age and stage
how to teach children meditation who have SEN –  ADHD, Autism 
a 'meditation toolkit' that can structure bespoke sessions
using mandalas to guide and develop emotional energy
grounding with mudras and movement
exploring labyrinths to help children self regulate their energy
working with nature, stones/crystals
using the senses, colour and day-to-day mindfulness
how to intuitively guide meditations to match their energy
tips for teaching kids/teens who don't want to learn meditation
exploring the energy body structure and how it helps teach meditation
which mindful activities are safe to use with different needs
how to support the families of children with SEN
how to help young people process trauma through meditation
how to set up a professional meditation teaching programme
worldwide certification to gain insurance to teach meditation professionally
tips on how to run meditation sessions online (via zoom/whatsapp) for kids or teens
access to masterclasses to advance your skills
insurable through Balens UK or IICT
accredited by IMMA
sharing ideas and good practice with our online tribe
"Taking part in the training was life changing for me.  The most important thing I learned was the value of fostering a deep connection with myself and by doing so strengthening my connection with other people and the world around me.  Through my own journey of developing self-awareness and self-compassion, I feel empowered to help children reach this deeper level of connection with themselves, a true honour and privilege, and a complete joy to behold."
Connected Kids is an extraordinary course…
We have people from all walks of life who have joined the Connected Kids programme – teachers, psychologists, mental health experts, yoga teachers, therapists, counsellors, social workers and parents or carers who want to start a new career and teach in…
escuelas / organizaciones educativas,
servicios de salud mental de las autoridades locales
grupos de jóvenes locales,
organizaciones privadas relacionadas con la juventud
grupos privados - organizados en su comunidad
privado, 121 sesiones
and/or as part of your current profession working with young people
to include children in your current meditation teaching practice
to enhance other skills (forest schools, animal therapy with kids)
Connected Kids Accredited Online Training
Lifetime access to online modules PLUS live, online teaching sessions.
Read More...
Connected Kids Training Workshop – UK and Europe
Face to face training with Connected Kids Training experts - UK and Europe
Read More...
Professional Assessment for Certification
After attending the Connected Kids Professional training course, you have 12 months to complete practical assessment work; designed to build your confidence and mentor you through your teaching practice. This includes
completing 10 case studies (5 x group and 5 x 121 sessions),
1 x audio/video recording of delivering a meditation to children,
a teaching meditation business essay – to give you the confidence to set up a professional practice
*police/PVG check
completion of a written test
*PVG/criminal record checks;  we require a copy of a basic disclosure/police check (or equivalent in your country) to confirm that you have a clear history with no criminal charges at the time your disclosure/police certificate was issued (certificate date must be valid within 18 months of the Connected Kids training).
Este seguro para enseñar como Tutores de Niños Conectados junto con su certificado de Tutor Profesional de Niños Conectados, le permitirá trabajar en privado con familias como Tutor de Meditación y satisfacer los requisitos de las organizaciones y el sector educativo que buscan servicios profesionales de un Maestro de Meditación para Niños. .
Accredited by IMMA
Meet some of our Connected Kids Tutors