What a great way to start the week!
Our online course based on the book Calm Kids (how you can teach kids meditation)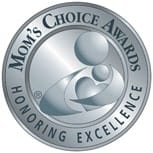 has been given the silver award by Mom's Choice! Happy days!
Mom's Choice is a worldwide organisation that honors excellence in family friendly media, products and services.
This is a big deal for us and we are so excited!  It is quite a process to apply for this award so after a few months we've been given the thumbs up.  We are so delighted and hope you can help us spread the word.  The more people in this world who teach children meditation, the greater the benefit for all.
Thanks for your help and support in all we do.  It's really appreciated.