My name is Julia McLaughlin, I am a Registered Osteopath, graduating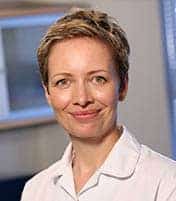 from BCOM 1999 and specialise in treating children with a post graduate diploma from the Osteopathic Centre for Children in London.
I wanted to give parents and children tools that they could use at home to help their healing journeys and enhance the treatment they received with me in person and I felt the Connected Kids training provided this.
I combine osteopathy with exercises to help integrate primitive reflexes and meditation techniques to help children reach their full potential.
"At first I didn't want to go to Julia I didn't think it would help. I didn't know what I was going for. When I went the first time, I felt silly, but Julia made me feel comfortable and safe.  Going to Julia actually really helped, the grounding exercises were really good. I loved the Crystal's and got some of my own. I usually have one in my pocket just to hold if I feel anxious.
Sometimes I didn't want to do the things that Julia had planned for me, she always adapted them to suit my mood.
My favourite things were the physical exercises. I use the rocking ones to help me get to sleep and I like listening to meditation to help me wind down especially at night time. When I remember I write my thankfulness journal it helps me see that on days when I feel
really bad there still good things that happen. Julia was really good and nice and I am so thankful for everything she showed me" 
Laura, age 11
Certificate Date
04/12/2020
Email Address
julmurdoch@gmail.com
Website
http://www.comberosteopathy.co.uk/
Telephone Number
02891871477
City
Comber Co Down, Northern Ireland
Country
United Kingdom
Postcode / Zipcode
BT23 5EN