Mi nombre es Julia McLaughlin, soy un osteópata registrada, graduándome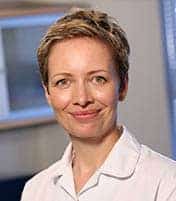 de BCOM 1999 y se especializa en el tratamiento de niños con un diploma de posgrado del Centro Osteopático para Niños en Londres.
Quería darles a los padres y a los niños herramientas que pudieran usar en casa para ayudarlos en sus viajes de curación y mejorar el tratamiento que recibieron conmigo en persona y sentí que la capacitación de Niños Conectados lo proporcionó.
I combine osteopathy with exercises to help integrate primitive reflexes and meditation techniques to help children reach their full potential.
"Al principio no quería ir con Julia, no pensé que ayudaría. No sabía lo que estaba buscando. Cuando fui por primera vez, me sentí tonta, pero Julia me hizo sentir cómoda y segura. Ir a Julia realmente ayudó mucho, los ejercicios de puesta a tierra fueron realmente buenos. Me encantaron los Crystal y obtuve algunos propios. Por lo general, tengo uno en mi bolsillo solo para sostenerlo si me siento ansioso.
A veces no quería hacer las cosas que Julia había planeado para mí, siempre las adaptaba a mi estado de ánimo.
Mis cosas favoritas fueron los ejercicios físicos. Utilizo los mecedores para ayudarme a llegar a dormir y me gusta escuchar la meditación para ayudarme a relajarme, especialmente por la noche. Cuando recuerdo que escribo mi diario de agradecimiento, me ayuda a ver que en los días en que me siento
realmente mal todavía hay cosas buenas que suceden. Julia fue realmente buena y agradable y estoy muy agradecida por todo lo que me mostró " 
Laura, 11 años
Fecha del certificado
04/12/2020
Dirección de correo electrónico
julmurdoch@gmail.com
Sitio web
http://www.comberosteopathy.co.uk/
Número de teléfono
02891871477
Ciudad
Comber Co Down, Irlanda del Norte
País
Reino Unido
Codigo postal / código postal
BT23 5EN