Teaching children mindfulness
I've been a Mindfulness Association tutor since 2011 and a Mindfulness in Schools accredited teacher since 2015. I've taught multi-week mindfulness programmes in a wide range of schools and I offer one-to-one mindfulness coaching sessions for children and young adults.
I'm also a part-time primary school teacher, specialising in supporting children's health and wellbeing.
I find young children easy to relate to, sharing their openness, enquiring minds and enthusiasm. The inquisitiveness and spontaneity of primary school children, in particular, ignite joy and enthusiasm in me and fuel my passion for working with them.
Children's, parent's & teacher's words
A, aged 9:
"It was good fun and one of the best things I've done. It teaches you how to do different things that anyone can understand. It isn't hard and you don't have to put lots of effort into it."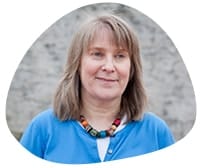 "I've used finger breathing at the start of the day because it's very noisy and people are pushing to get into the line at school. I used it so I didn't get annoyed."
"[Gillian is] very kind because she didn't say I was doing anything wrong and let me do it the way I wanted to do it… She was nice and very friendly. She was easy to talk to and I didn't feel uncomfortable at all."
J, Edinburgh mum:
"I was really impressed with the way you approached the session with A. She was completely at ease in your company…"
"…the finger breathing is something I will be adding to my own repertoire … It's such a simple idea and something I can do with A when we both need to calm down!"
Miss K, Edinburgh teacher:
"[The course] has given the children lots of practical things they can use, such as breathing techniques, to help them overcome difficult situations, concentrate better, and be generally happier."
Primary School Teacher, Edinburgh:
"The children have been using the mindfulness techniques they learned to calm down after playground excitement … and to focus when getting ready to work."
Certificate Date
24/05/2017
Email Address
gillian@momentisnow.co.uk
Website
https://www.momentisnow.co.uk/become-mindful/mindfulness-children/
Telephone Number
07801 433 358
City
Edinburgh
Country
United Kingdom
Postcode / Zipcode
EH9 3ED