Hello, I'm Anne, an experienced massage therapist for adults and babies.
I feel passionate about working with and supporting families to relax and pass on holistic ideas how to lead a more balanced life.
I started my own meditation journey in the first lockdown and soon realised that this is the way forward for me personally.
When I found Connected Kids and started practising with my son I knew I wanted to share this with many more children and their families.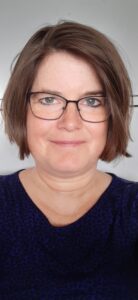 I qualified in summer 2021 and have been running virtual and face-to-face sessions with children at primary school age.
I teach mediation in a group setting and 121, in English and German.
I enjoy making children aware of their emotions and how to deal with them peacefully. I also love making children more aware of their senses and how it can influence their wellbeing and behaviour.
Please get in touch if you'd like to find out more.
Here's what participants and their parents said after their sessions:
"I enjoyed the session and would give you a 'million out of ten'. I found the session helpful for calming down and will practice some of what I learned with you on my own' 
"I learnt something new – how to deal with anger but I'm not sure if I will remember to do it. I will try because I know that being angry makes me impulsive and I don't want to be like that."
"My daughter loves these sessions! She likes to be guided to try new things so she really enjoyed tasting food in a different way. I will ask her to show me how to do this because I'm interested to learn it as well. 
"We often have unpleasant experiences at dinnertime when my son just can't sit down and isn't really eating much but often he's loud and tries to get up from the table quickly. So we tried mindful eating with him and he really enjoys it and often eats more than usual. I hope this helps us to avoid stressful situations and arguments at the dinnertable."
I would love to hear from you and run a sesssion for your family or your school! I'm DBS checked and fully insured.
Certificate Date
09/08/2021
Email Address
mindandmassage21@gmail.com
Website
www.mindfulnessandmassage.com
Telephone Number
07951546139
City
Country
United Kingdom
Postcode / Zipcode
MK40 3UL