Help Children Relax with Mindfulness Activities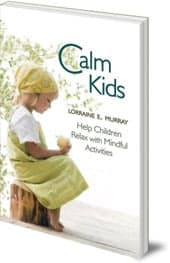 This book is perfect for any adult who wishes to teach their children (toddlers to teens) mindfulness activities and meditation techniques that will help them to:
de-stress
relax
improve self esteem
help focus and concentration
improve sleep
The book is based on the  Connected Kids course taught by Lorraine Murray, the author, which helps complete beginners or those who meditate regularly how to teach their children and teens meditation and mindfulness skills.
"
I just wanted to say that I received my copy Calm Kids which arrived this morning and what can I say?? Wow well written and researched I'm already half way through the book ands it's a great tool, my son had ADHD and we both meditate together when he feels stressed. I have achieved more things in life since having Ciaran 10 years ago. Thank you so much Lorraine.
"
Available from…
"I'm really enjoying your book – you can tell it was written from the heart.  The 2 things that I wish I had known about, when I was bringing up my daughters in the 60's and 70's is meditation and baby massage.  That would have taken a wonderful experience into the realms of the glorious.  Well done wonderful heart mother."
"Delighted to say I received my copy of Calm Kids when i got home from work on Friday.I started reading it straight away, but had to go out. Picked it up this morning 9am and read it until it was finished ( 1.20pm). very interesting and informative. I really enjoyed it and can't wait to use some of the techniques."
"I started reading it last night and can't put it down. It's fantastic. Really well written and easy to read. It's going to do so much good."
How to teach your kids meditation
If you would like to learn some simple skills that can help your kids using meditation and mindfulness, we offer an online and in-class training programme.