Meditation and Mindfulness for Autism and ADHD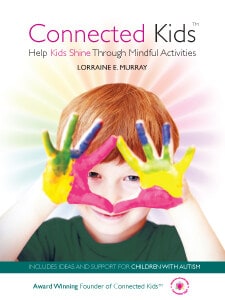 Mindful activities are a
life skill
that can help children and teens manage stress – particularly if they have additional support needs. 
This book is ideal for educators, parents and professionals;  
accessible for all levels of meditation experience.
In this sequel to  her best-selling book 'Calm Kids', author Lorraine Murray explains a range of methods to help you teach your child meditation using bespoke ideas and activities that accommodate their abilities and interests  – particularly if there are additional support needs for children on the autistic spectrum.
"This is an excellent read with practical steps to follow (and also tips on how to advance to sensing what the child needs by having an open heart and mind rather than a strict plan to follow) – great for helping kids with special needs, as well as everyone else."
The book  contains practical meditation and mindful tools for people to try with  children (of all ages) – on a personal or professional basis.
The book is based on the author's research via case studies.  This enabled her to explore and test the ideas in the book to help kids with special needs reduce stress.
"I love this book. I have been teaching yoga to students with special needs for the past 10 years (self taught ). I have done 2 certificates in kids yoga but found that my knowledge surpassed a lot of people I met. Our school has taken on student wellbeing and when I found this book I was so excited. It has deepened my understanding and allowed me to pass on to the students activities that will help them regulate.
I have seen the change in many students over the past 18 months and know that I will continue to see development in all my students, even if it is minor….it is major for them.