A few weeks ago I was very fortunate to attend an educators' retreat with Thich Nhat Hanh – a Zen Master who has been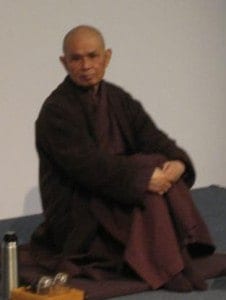 promoting the benefits of mindfulness meditation to people for that last 50 to 60 years. Thay and his team are now planting these seeds with educators (teachers, therapists and anyone working with children or young people) about the benefits of mindfulness for all ages.
So much took place both personally and professionally for me that one blog will not suffice! However over the next few blogs I will share my experience and hope it brings some seeds of hope and peace to you as well as some practical steps and useful resources you can tap into.
Seeds of Peace
Many of the people who attended the course may have felt they were there to learn specific techniques that they could then use with their classes and particularly the 'difficult' children. Oh how this changed over the weekend! Thay and the Buddhist nuns and monks who work with him introduced simple methods that all referred to the same point – to find peace within the self.
If we are to encourage children to be mindful, peaceful and joyful – then we also have to feel and experience this too. It is much harder to bring peace into a classroom or a home if the teacher or parent is feeling overwhelmed with work or personal stress. The children sense this just as you would sense the warmth of the sun disappear behind the shade of a cloud.
So the peace starts with you.
Watering your own Seeds of Peace

What was so interesting for me is that whilst I practise meditation regularly and wasn't sure what I would learn that was new, I benefited so much from the simple steps we took to peace. These included:
Singing songs of mindfulness
Body relaxation
Mindful eating and noble silence
Mindful walking
The first Dharma talk that Thay gave was "Enjoying our Time Together". He drew 3 circles.
The first represents you, the person. The 2nd is your family and the 3rd is your work. He showed us how we must take care of ourselves first so we are strong enough to support our family and then our work. If we choose only to support our work, we and our family suffer. If we only support our family and work, we suffer. We are the first step.
Throughout the weekend we practised many of the mindfulness activities (as listed above) and the effect on me was amazing.
I found it really challenging to eat mindfully at first. The food was self serve and we were asked to collect this mindfully. Over the 4 days I found my plate getting smaller and smaller as I just couldn't eat as much – my body was telling me when I was full.
We would sit down at tables with both the nuns, monks and other retreat attendees – I felt embarrassed to be seated next to others and not able to talk. My mindfulness was to note the embarrassment and keep turning my attention to the food I was eating.
I noticed how I was grasping my knife and fork whilst chewing, so I decided to put it down between mouthfuls. Then I noticed how the food felt in my mouth – the different flavours of watercress and the moisture of cucumber. As well as taking less food, I started to enjoy eating mindfully. I found myself taking a moment to observe my food before I started eating just to see what was on my plate. The different colours, shapes, textures – it was beautiful.
I would then start to think about all the energy that went into creating this food. The energy of the sun, rain, earth that helped it to grow. The energy of those who have worked to plough the food and bring it on a journey to my table and my plate.
On the very last day, I sat one morning at breakfast and decided to sit with my hands in namaste, eyes closed and appreciating the food I had to eat. My eyes filled with tears, I felt so grateful and so blessed to be here and to be taking care of myself. I felt so peaceful.
Mindful eating with Children
With children we wish to rush them through their food so that we are finished and they don't get bored (and don't eat what we have given them).  I've seen this with many parents who get frustrated that their children are taking so long.  Oh how these children are like little Zen Masters in their own right (sometimes!)
Why not teach then some mindfulness before eating. Ask them to sit and think about all the different energies that came together to create this food. If they are eating meat, ask them to say thank you to the animal that gave its life so they could eat. Ask them to see their food – the colours, textures and so on. Ask them to take a mouthful and enjoy their food and tell you what they sense. You do it too and watch and feel your own inner seed of peace expand with every mindful meal you eat together.
Food Contemplations

(An excerpt from 'Planting the Seeds' – Practicing Mindfulness with Children)
This food is the gift of the whole universe: The earth, the sky, the rain, and the sun.
We thank the people who have made this food, especially the farmers, the people at the market and the cooks.
We only put on our plate as much food as we can eat.
We want to chew the food slowly so that we can enjoy it.
This food gives us energy to practice being more loving and understanding.
 We eat this food in order to be healthy and happy, and to love each other as a family.