Flexible study – certified and accredited
If you want flexibility to study without compromising the quality of what you will experience, then the online version of our Connected Kids Professional training will meet your needs.
Lifetime access – modules
You'll have acceso de por vida to online modules that are full of useful information with videos, recordings,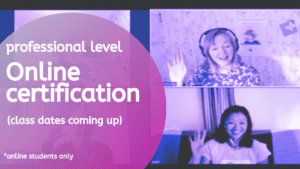 practices and links to further reading/learning – everything we think you'll need on your professional Connected Kids journey.
Online classes
To support your journey and bring key teaching meditation skills to life, the training includes 3 live online zoom sessions with the programme founder, Lorraine E Murray.
los programa de estudios of our online professional course is identical to the workshop training PLUS it includes lifetime access to the online study modules.
"[The founder]Lorraine beautifully balances the practicalities of building a business teaching children meditation along with developing your intuitive sense so that you are able to deliver meditations that connect with the children. I am now teaching around 45 children a week in online classes and can use the skills I learnt to create imaginative and engaging meditations. I am also a mum of three small girls and my new found skills have been invaluable in helping them through some tricky times. One daughter recently said to me "Mummy, we are so lucky that you are a meditation teacher as you know exactly how to help us when we feel sad."  Rebecca Saunders, UK 
Accredited (by IMMA) online learning
8 self-directed study modules (approx 18 hours study)

Lifetime access to modules and online support

Course accredited by IMMA and IICT

Includes teaching SEN/autism/trauma

Professional Connected Kids Tutor Certificate – 45 CPD/25 CE credit

One-off payment of £1147 (company invoicing available)

Qualify to join our worlwide, exclusive meditation teacher register

Ongoing CPD support

Free bonus of foundation course (5 modules – value £197)

"The kids really embrace the guided meditations and visualisations. They can sit for a longer, and really let go."

"Being more aware of my own energy and my own intentions, I work intuitively, guided by my heart, to create a space for kids to find solutions for themselves. This has been so transformative to me and the kids I have worked with.

Step 1 – purchase the course and begin…
There is no pre-requisite to the course.  To support our trainee meditation teachers, we automatically include the foundation course modules – value of £199 – as an extra bonus!
Step 2 – you can book in for live online classes
When you use your code, the bonus foundation modules will appear on your login within 48 hours after you start the professional modules.  You can book in for our live, online classes. (included in course cost)
Step 3 – complete the modules
You can complete the professional modules with online support throughout.
Step 4 – start the assessment
After the last, live online class, you'll *complete a practical and comprehensive assessment to certification – included in course cost.
Step 5 – receive accredited certification!
We'll give you comprehensive feedback and when you pass, you will receive your accredited  Connected Kids certification and start teaching children professionally! (Accredited by the International Mindfulness and Meditation Alliance)

We alternate online class sessions to accomodate our worldwide students.  We release new dates 3 to 4 months in advance.

Current dates self directed modules plus live online classes. Timings show for (BST – UK) – check your timezone. 
 Jueves 10am to 12pm starting 18th January, 1st and 15th February
 Martes 6.30 pm to 8.30pm ) starting 27th February, 26th March, 30th April
 Sundays 10am to 12pm – starting 10th March, 24th March and 14th April
 Mondays 4pm to 6pm  – starting 18th March, 29th April and 3rd June
Once you register onto the modules, you have 12 months to book your place in the online classes that lead to professional certification.

*You have 12 months from the final online class to complete your assessment work.  Extensions are available.