With nearly 20 years experience, we have the resources and experiences to help your organisation introduce or develop meditation for young people.
Lorraine E Murray is a published author who has presented at events worldwide including pre-school summits with Dr Helen Maffini and The Mindfulness in Schools Summit and is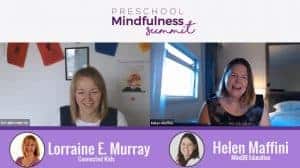 comfortable speaking from intimate to worldwide audiences.
Or perhaps you are looking for consultancy services to help develop bespoke, mindfulness tools, facilities and ideas (from designing a space for children to meditate, to introducing some useful meditation tools for specific issues – behavioural challenges, transitions etc).
Maybe you have considered a custom-designed training programme for staff that will fit with your organisation schedule and budget?
Speaking Engagements
Inviting children's meditation pioneer, Lorraine E Murray to speak at your event...
Read More...
Developing mindfulness in-house
Helping you create mindfulness opportunities for staff/children
Read More...