Books to help you teach meditation
Teaching meditation through storytelling
…meet Jess, the Mindful Dog  helping kids with anxiety
 "Oh my goodness.  This is the best book I've read in ages. I actually cried at the ending because of what Jess had done for Robbie. How can a book be this good?"   Kylie (age 11)

This is our first fictional book which helps readers aged 7 to 12 learn mindful skills through the story of Robbie, a boy who trusts no-one and struggles with anxiety.  Then he meets a mystical dog (Jess) who helps him move from surviving to thriving.
Niños tranquilos
"Having dealt with high anxiety for much of my life, I have been overjoyed to find that meditation helps me to feel safe and calm, and to think clearly to distinguish between imagined threats and real threats. It has allowed me to open myself up to new experiences and to let go of the idea that if I can't be perfect, I shouldn't bother to try. My oldest son has demonstrated similar qualities since he was a toddler – he has been more than a little hesitant to try new things and slow to make friends. Like any good mom, I turned to the internet for help  I was lucky to find Lorraine's first book, Calm Kids. I loved the book so much that I decided to sign up for her course to teach meditation to children. Calm Kids is a great resource."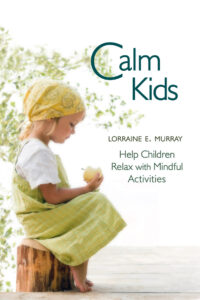 This book will walk you through, step-by-step, to create meditations that your kids, of all ages, will love.  This book is the basis of our curso basico on the Programa Niños conectados.
inspirational and practical guidance on how to lead fun and
peaceful relaxation sessions with children
good for children with behavioural and developmental
disorders such as ADHD
provides a range of activities for all children, from toddlers
to teenagers, for use in the home or classroom
Buy here
Also available in Estonian y Dutch

Niños conectados
"This book truly is wonderful for the general population, but Lorraine's detailed work on challenges that people with autism face and several specific balancing mindful activities make this the best book that I have seen for helping kids feel their best. For example, if a child cannot tolerate the food on his plate, she suggests practicing a gratitude meditation before eating where the caregiver and child explore the journey of the food to the plate (imagine the food growing as a plant and thanking sun, soil, water, as well as the farmer who cared for it, etc.) Kids become less afraid of unfamiliar foods and textures as they think about the effort involved in getting the food from a seed in the ground all the way to their plates – I've seen this work in my own home!"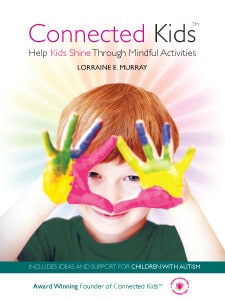 In this book you will discover a detailed meditation 'toolkit' of practices and ideas that we have successfully used with all young people but especially SEN – including autism and ADHD.  This is a textbook for our professional training course.
practical, inspirational guide
skills to lead calming relaxation sessions with children and teens on the spectrum or with anxiety
variety of activities suitable for all ages; toddlers to teenagers
easily implemented into a busy home/classroom setting.
Buy here
If you are a translator, or book publisher, who is interested in translating any of our books into different languages, please get in touch.  We have a worldwide training programme based on the books, with thousands of followers.