Keynote speaker – wellbeing and mindfulness
"I saw Lorraine today on the Neuroscience summit- Loved the webinar and her great advice, information, sharing, and just her spirit. Very encouraging for me"
With nearly 20 years experience, Connected Kids has been teaching adults about meditation for kids.  Lorraine E Murray has pioneered this worldwide as a speaker, trainer and consultant.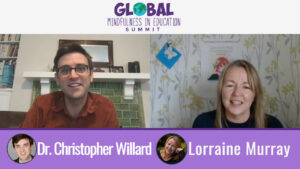 The founder of Connected Kids Ltd, Lorraine E Murray, is a published author, international trainer and experienced speaker who has presented at events worldwide.
She has been invited to speak at the Global Mindfulness Summit with Dr Christopher Willard and The Mindfulness in Schools Summit with Dr Helen Maffini.
Wellbeing Consultancy Services
Lorraine and her team also offer consultancy services to help develop accredited training, mindfulness tools, facilities and ideas.
From designing mindful pods, to introducing essential meditation tools for specific issues such as behavioural challenges, transitions or children with trauma.
Her team can also provide CPD/CEs training for staff to help upskill them and teach children and teens mindful skills that will also support positive wellbeing practice in the workplace.
Connected Kids has the resources and expertise to help your organisation introduce or develop meditation and wellbeing for young people and the staff who work with them within your schedule and budget.