Certified Professional Training – kids or teens
Accredited by IMMA
This certified, professional meditation teacher for kids and teens course
 includes expert tips and ideas for working with autism, ADHD and reducing anxiety using mindfulness.
Study at a time to suit your schedule – the learning style materials include video, online reading materials, meditation practice recordings and live, online classroom sessions with expert and founder – Lorraine E Murray.

Advance your skill set – teach mindful techniques that work effectively with kids/teens who have special educational needs or challenging behaviour through trauma.
Working directly with the Founder of Connected Kids, Lorraine E Murray (with over 30 years experience) – you will develop a meditation toolkit that is perfect for teaching professionally with children and teens of all abilities.
Lorraine will teach you how to help children and teens reduce stress, anxiety and develop their self regulation and emotional resilience skills using mindful activities.
"I am loving the course and sharing my joy with all my friends and family."  SK, USA
Course structure…
Self directed study – 13 online modules packed with teaching meditation information based on 17 years of experience, research and practical teaching tips.
Direct, online training – attend live, online classrooms with the founder, Lorraine Murray to gain *accredited, internationally-recognised certification.
Assessment – gain practical experience through completion of our approved assessment to attain the Connected Kid Tutor certificate – which provides access to worldwide insurance for the professional teacher
Lifelong support – invited to join our online community of worldwide meditation tutors and experts to share good practice.
Online, live support sessions – Q and A sessions held 4 times per year to support students who need mentoring and support
Access to 121 support – with the founder Lorraine E Murray for mentoring and development
*The self study course is accredited by IMMA (International Mindfulness and Meditation Alliance)
**Professional Training syllabus
Understand how stress affects the mind, body and emotions
Discover the practical benefits of mindfulness for children and teens.


Understand how meditation helps reduce stress for toddlers to teens
Understand how to adapt meditation styles to  different ages of children/teens
Learn how to set up a meditation space 
Strengthen your personal meditation practice  and learn how it relates to teaching kids
Learn how to produce meditations that really connect to kids and teen's needs.
Learn how to deliver meditations with more confidence and ease.
Discover how meditation can help children with ADHD or autism or other special needs.
Expand your meditation 'tool kit' to accommodate different abilities/needs in children/teens.
Learn how to set up a professional meditation programme for kids and teens
Learn how to support families and caregivers
Develop a 'meditation toolkit' that creates meditations children will love!  (mandalas, mudras, labyrinths, crystals/stones, colour, mindfulness, yoga)
Learn how to work intuitively with a heartfelt teaching practice and develop your 'business heart'!
Understand how to reach kids/teens who don't want to learn meditation!
Learn about which mindful activities are safe to use with trauma.
Understand how to help young people process strong reactions to meditation
Learn how to teach kids or teens meditation online using zoom/whatsapp
CPD points
The Connected Kids course has 13 modules.  It includes 3 online classroom sessions and assessment.  Most of our students can complete the course in 4 to 6  months (45 CPD points).  As it is self-directed study you can go at your own pace (you have 12 months access  to the materials).
Course content…
The certified self study, professional kids meditation teachers training offers 45 hours of online material and provides you with a detailed and interactive experience if your passion is to become a successful, professional kids meditation teacher:
Module 1 – What is kids/teen's meditation?
Module 2 – How to get started creating meditations your kids will love
Module 3 – How to create a meditation that keeps children connected
Module 4 – Expanding your ideas that meet age and stage.
Module 5 – The family benefits of teaching children meditation
Module 6 – your 'peace pioneer' skills – helping you work with the challenges of teaching meditation professionally
Module 7 – energy awareness for teaching meditation – to accommodate contraindications.
Module 8 – teaching with the intuitive heart to deliver meditations with compassion and fully understanding the child's needs.
Module 9 – child development and special needs – our speciality!  What we love to teach.
Module 10 – enhancing your teaching meditation skills – stretching your abilities so you can realise your true potential.
Module 11 – developing your teaching mindfulness toolkit to ensure you can reach children of all ages and abilities.
Module 12 – teaching advanced, mindful activity tools for children with challenging behaviours/trauma.
Module 13 – developing bespoke meditation programmes to meet the needs of your organisation or community.
Attendance at to the online classroom with the founder Lorraine Murray, to secure your certification and ask the expert!
"It has given me the confidence to take my meditation teaching out into the community with confidence and peace in my heart." AP, UK
Training costs – kids meditation teacher
The cost of the professional training is *£894 plus tax  and includes all modules, online classrooms,  certification, lifetime support, online  resources  and  access  to  our  exclusive  online  group  of  fellow  trainers  and  experts.
*How much in US dollars?  Exchange rate 
"I've just started working with an 11 year old boy who is diagnosed with Austism, ADHD and OCD. A big issue for him is a sensitivity to noises, mostly loud or sudden noises. He feels overwhelmed and full of anxiety most of the time,finding new places and people difficult. After some guided breath work and a quick body relaxation to help him to connect and become aware of his body and feelings today, we did the golden spacesuit. At the end, the first thing he said was 'my feet felt so heavy…it was so strange. I felt like I was connected to the floor'. His mum was nearly in tears and said for him even to sit and listen to something for a sustained period of time without getting anxious and fixating on something was incredible. He said he'll imagine the suit and the visor in supermarkets and at the pharmacist. Thank you Lorraine for all your wisdom and guiding us all on this journey so we can deliver these tolls. Excited to see where this particular journey goes". RH, UK
2021 Dates – online, live classroom
These take place on the following days of each month and run consecutively (you choose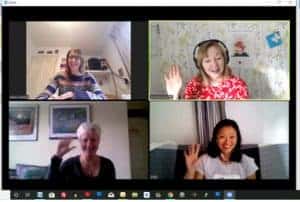 your group and timeslot).
With Founder – Lorraine E Murray
Mondays – Group A
8th February, 8th and 29th March
10 am to 12 pm  2 places left
or 1 to 3pm – 3 places left
Thursdays- Group B – new date just released!
4th March, 1st April, 29th April
9.30am to 11.30am
or 3 to 5pm
With Trainer – Ruth Pringle
25 Feb, 30 March, 20 April
10am to 12pm  or 4pm to 6pm
Each session  works to the UK (BST)  timezone – you can find your time zone here >>>
We recommend starting the online self-study a minimum of 4 weeks before the live online
classroom dates.
For Yoga/Meditation Teachers
We have an 'experienced teacher' package saving you money on the total cost of becoming  a certified  kids  meditation  teacher.
Spread the cost
Payment plan – want to take the course but spread the cost?
**The certified professional training automatically includes the self study foundation stage of the international Connected Kids Programme.